Darren Rieck
Co-founder and CEO
Hi Friends,
Welcome to our 3rd Quarterly Review of 2022! I hope that life is treating you all well.
I would like to take this opportunity to thank you for your continuous support and for being a valued member of the Nookal family – we appreciate each of you.
Thanks to your generous reviews and feedback, we have been awarded the following accolades, which we are immensely proud of:

🏆 Physical Therapy Shortlist for Capterra (2022)
🏅 Front Runners of Software Advice (2022)
🏆 Category Leaders on Getapp (2022)
Offering you the best Nookal experience requires a team effort, and I am delighted to present some of our Nookal family to you now.
---

Julee Holland
Release Coordinator
Hola! I'm Julee, the Nookal Release Coordinator.
Your Nookal experience is fundamental to us, so we have been focusing on significantly improving our Diary and new Message Centre.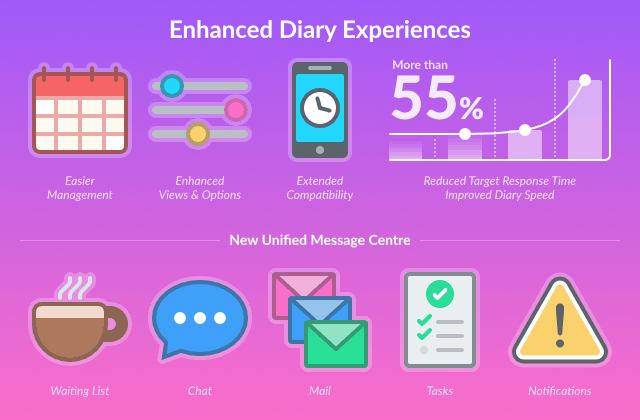 Working with our Infrastructure Team, we've reduced Target Response Time by more than 55%, which has catapulted our Diary to new speeds.
Alongside this, our new Diary update has unleashed some features to provide you with a supreme Nookal experience:
Easier Management of Bookings
Enhanced and Flexible Diary Views
Extended Compatibility for Mobile Devices
Our new Message Centre introduces more effective and efficient communication management by incorporating Waiting Lists, Mail, Tasks, Chats, and Notifications into one cohesive interface.
We trust that you'll find this new update amazing, as it takes efficiency to a new level.
---

Emma Gardner
Head of Customer Support
Hey, I'm Emma, the Head of Nookal Customer Support.
I constantly strive to improve the level of our customer support, and I am delighted to share that since the last quarter myself and the team have been focussing on how we can best enhance your experience with Nookal.
We have revitalised our introductory training program by launching a self-paced Nookal basic training session designed to introduce your new team members to Nookal effectively.
Our revamped onboarding process delivers advanced introductory training to strengthen your overall induction processes.
And we're currently developing an intricate training platform with 50 spellbinding modules, which we cannot wait to deliver to you in the future.
We hope that you find our new self-paced training program beneficial and that, combined with our customer support, you can take advantage of every feature Nookal offers.
---

Lizzie Church
Content Creator
Kia Ora, I'm Lizzie, the Nookal Content Creator.
I've been creating content designed to inspire, motivate, (hopefully) educate and (maybe even) entertain you.
The Nookal Newsroom is now up and running with an ever-growing number of articles with topics currently, including setting up club affiliations creating the ultimate waiting room, and some stories of our awesome customers.
Take a few moments to check out our latest tips, tricks, and customer stories:
Make sure you follow us on Facebook, Instagram and Twitter to stay up to date with our upcoming releases, updates, and developments.
---
💬 Join the Discussion
If we've interested, informed or inspired you with this article, we'd love you to share your thoughts and opinions with us in the comments section below.